by Christal & Jeremy
posted Jun 30 2015 10:31AM
Blake Shelton has hit top of the chart with his current single "Sangria," bringing Blake his 20th career # 1 song. "Sangria" is the third single from Blake's Bringing Back the Sunshine album, and his latest hit in a long succession of consecutive chart-toppers. To make the celebration even sweeter, the song was recently certified Gold for sales of 500,000 copies. But the summer smash isn't the only thing Blake will be celebrating this week, he's also getting ready to observe one of his favorite holidays, the Fourth of July. Shelton says the Fourth of July is one of his favorite things about summer because of all the memories it brings back for him. Shelton also has a show scheduled in Fairlea, West Virginia on Friday (7/3).

J.J. WATT'S ONSTAGE TACKLE – ZAC BROWN BAND

It might not be football season yet, but Houston Texans' star defensive end J.J. Watt is already making impressive tackles. Watt was at a Zac Brown Band concert in Milwaukee on Sunday night (6/28) when a fan jumped onstage and started disrupting the concert. Watt's defensive instincts then kicked in and he rushed the fan, tackling him to the stage. After the fan was brought down, the crowd erupted in applause while J.J. stood above him and smoothly put on a pair of shades. Watt took to Twitter after the concert and said, "Nobody messes with @zacbrownband." The whole incident was captured on video and can be seen here.

THOMAS GETS TANGLED UP – THOMAS RHETT

Thomas Rhett has revealed the name and release date for his forthcoming sophomore album. The album will be titled Tangled Up and is set for a release on September 25. Rhett has been working on the album for two years now and he says the album, musically, pulls from all the things he's been inspired by during that time. To help celebrate his fans and bring them into the album process, Thomas is asking fans to help choose the disc's cover art. Four designs have been posted on ThomasRhett.com and the winning cover will be revealed in the coming weeks.

LYNCH SURPRISED WITH A PLATINUM PLAQUE – DUSTIN LYNCH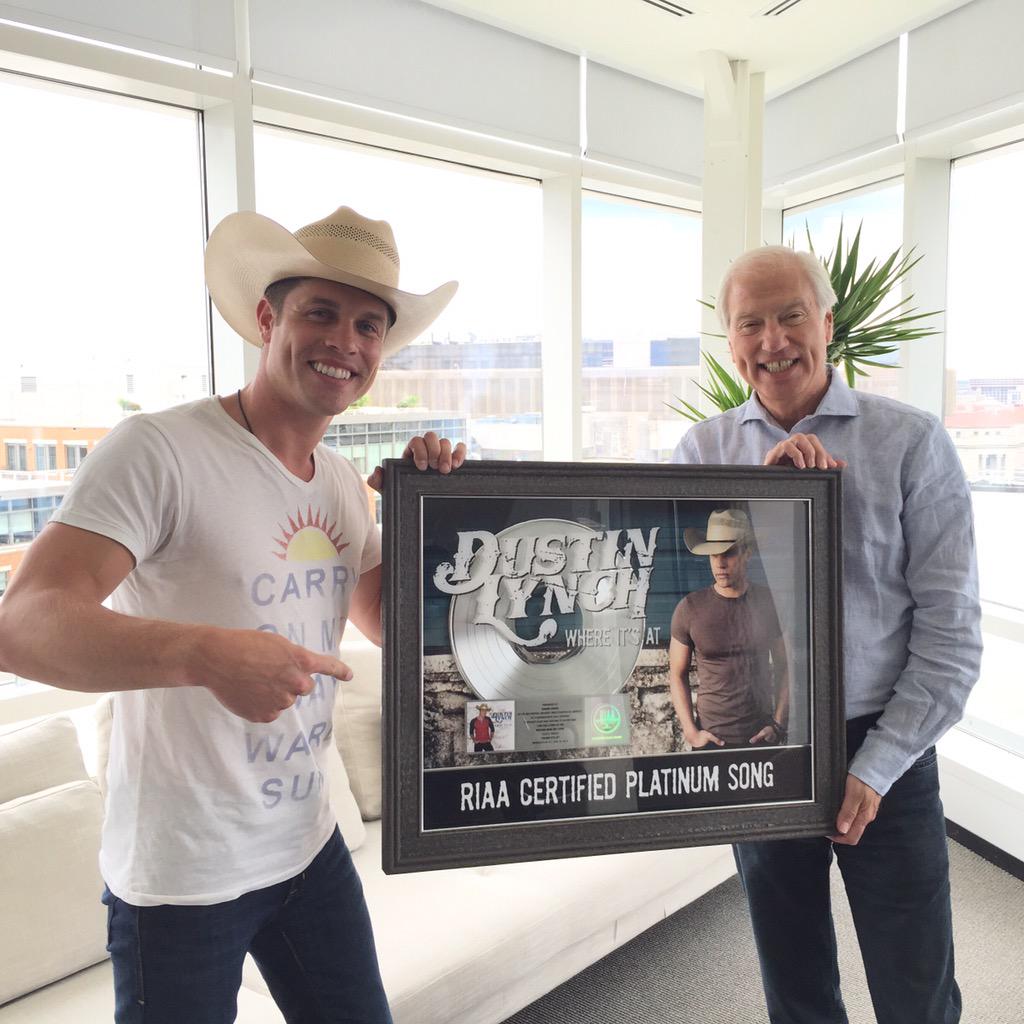 Dustin Lynch was surprised by the RIAA on Friday afternoon (6/26) with a Platinum plaque certifying one million in sales and streams for his #1 single "Where It's At". Lynch served as a special guest panelist alongside RIAA Chairman & CEO Cary Sherman and Broken Bow VP of Promotion Lee Adams for the first "RIAA Live" event of summer 2015 at its Washington D.C. headquarters. The audience was also treated to an acoustic performance by Lynch, including hits "Where It's At," "Cowboys And Angels" and latest "Hell Of A Night." After Dustin''s performance, Sherman stepped onstage to present him with an official RIAA-certified plaqu. Dustin said, "Big thanks to everyone at country radio that believed in this song and chapter 2 of my music!"